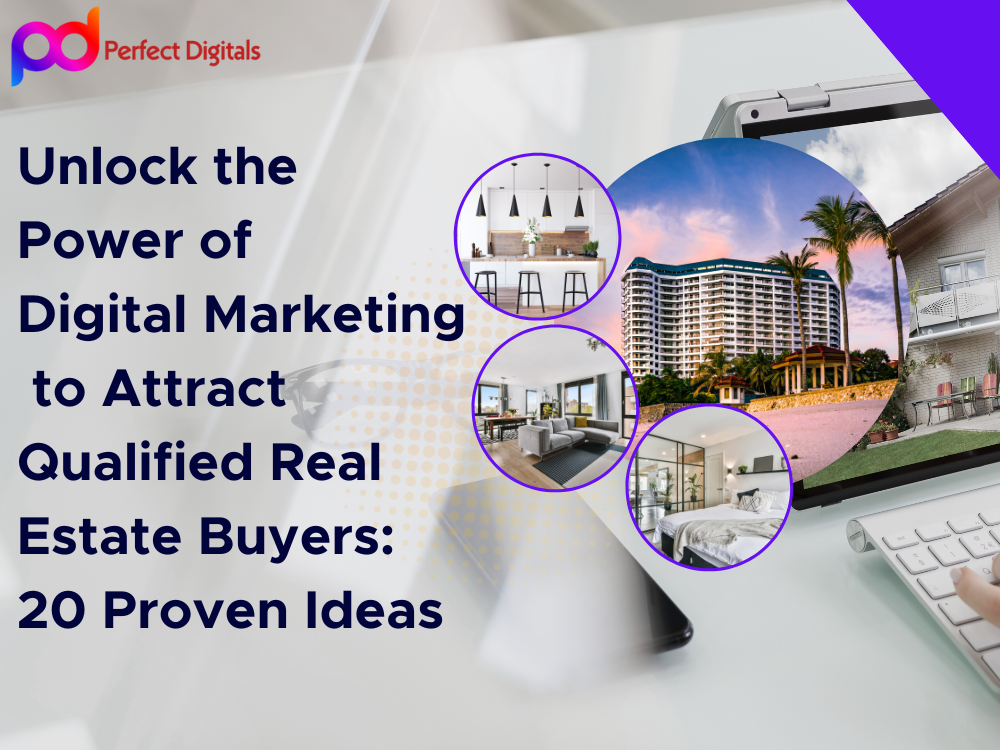 A digital Marketing agency takes on the responsibility of developing and implementing comprehensive digital marketing strategies for Real Estate businesses. They work closely with clients to understand their goals, target audience, and industry. Based on this understanding, digital Marketing agencies create tailored strategies that encompass various online marketing channels to maximize brand exposure and customer engagement.
1.

Create a Website
Establishing a professional and user-friendly website is essential in today's digital landscape. Your website serves as a virtual storefront, showcasing your properties and services. Ensure your website is visually appealing, easy to navigate, and provides detailed information about your offerings. Include high-quality images, property descriptions, and contact information to capture the interest of potential buyers.
2.

Build a Blog
Creating a blog on your website allows you to share valuable insights, industry updates, and expert tips with your audience. Regularly publishing informative and engaging blog posts helps establish you as a knowledgeable authority in the real estate field. Cover topics such as home-buying tips, market trends, and neighborhood spotlights to attract and engage potential buyers.
3.

Develop Email Marketing Campaigns
Email marketing remains a powerful tool for nurturing leads and staying connected with potential buyers. Build an email list by offering valuable content or incentives, such as exclusive property listings or market reports. Develop targeted email campaigns to provide personalized updates, property recommendations, and relevant information to your subscribers. Personalization and segmentation are key to driving engagement and building long-term relationships.
4.

Employ Virtual Staging
Virtual staging is a cost-effective and visually appealing technique to showcase the potential of a property. Through virtual staging, you can digitally furnish and decorate vacant properties, giving potential buyers a clear vision of what the space can look like. High-quality virtual staging can help attract more buyers and generate greater interest in the property.
5.

Try Experiential Marketing
Stand out from the competition by creating unique and memorable experiences for potential buyers. Organize events, such as property tours, open houses, or community gatherings, that offer an immersive and interactive experience. Provide opportunities for attendees to explore the property, ask questions, and envision themselves living in the space. Experiential marketing helps create emotional connections and increases the chances of converting interested individuals into qualified buyers.
6.

Partner with Local Businesses
Collaborating with local businesses can expand your reach and tap into new networks of potential buyers. Identify complementary businesses, such as interior designers, home staging companies, or moving services, and establish partnerships. Cross-promote each other's services, collaborate on joint marketing campaigns, and leverage each other's customer base to reach a wider audience.
7.

Run Instagram Promotion
Instagram has become a powerful platform for real estate marketing due to its visually-driven nature. Run targeted promotions on Instagram to reach potential buyers within your desired demographics. Develop compelling visual content, such as high-quality property images and videos, and use persuasive captions to attract attention and generate interest in your listings.
8.

Use Drone Photography
Incorporate drone photography to capture stunning aerial views of properties and their surroundings. Drone shots provide a unique perspective and give potential buyers a comprehensive understanding of the property's location, amenities, and proximity to essential facilities. High-quality drone photography can be a captivating way to showcase properties and differentiate yourself from competitors.
9.

Create a Zillow Profile
Zillow is a popular online real estate marketplace that attracts a vast number of potential buyers. Create a professional profile on Zillow to showcase your listings, expertise, and client testimonials. Regularly update your profile with accurate information and respond promptly to inquiries to build trust and credibility among Zillow users.
10.

Ask for Referrals
Word-of-mouth marketing remains one of the most powerful and cost-effective strategies. Don't hesitate to ask satisfied clients for referrals. Happy buyers can recommend your services to their friends, family, and colleagues, expanding your network and attracting qualified leads. Provide exceptional customer service, exceed expectations, and maintain strong relationships with your clients to encourage positive referrals.
11.

Make Your Own Videos
Video content has gained tremendous popularity in recent years and can significantly enhance your real estate marketing efforts. Create your own property videos to showcase the unique features and highlights of each listing. Use high-quality cameras or hire a professional videographer to ensure the videos are visually appealing and engaging. Consider including property walkthroughs, neighborhood tours, and interviews with satisfied clients to provide a comprehensive view of the property and its surroundings.
12.

Co-host a Webinar
Hosting webinars allows you to share valuable knowledge and insights while establishing yourself as an authority in the real estate industry. Partner with industry experts, mortgage brokers, or home inspectors to co-host webinars on topics such as home-buying tips, investment strategies, or market trends. Promote the webinar through your website, social media channels, and email marketing campaigns to attract potential buyers who are seeking expert guidance.
13.

Collect and Display Testimonials
Positive testimonials and reviews can significantly influence potential buyers' decision-making process. Collect testimonials from satisfied clients and display them prominently on your website and marketing materials. Video testimonials are particularly powerful, as they provide an authentic and personal touch. Testimonials demonstrate your expertise, professionalism, and the positive experiences previous clients have had when working with you.
14.

Leverage Traditional Advertising Media
While digital marketing is essential, don't underestimate the impact of traditional advertising methods. Consider placing ads in local newspapers, magazines, or real estate publications. Advertise on billboards in strategic locations to increase visibility. Traditional advertising channels can still reach a wide audience and attract potential buyers who may not be actively searching online.
15.

Optimize Your Website for Mobile
In today's mobile-driven world, ensuring your website is mobile-friendly is crucial. Optimize your website to provide a seamless user experience across various devices and screen sizes. Mobile optimization improves site loading speed, enhances navigation, and makes it easier for potential buyers to browse listings and contact you on their smartphones or tablets. A mobile-responsive website is essential for capturing the attention of on-the-go buyers.
16.

Actively Leverage Social Media Profiles
Social media platforms provide excellent opportunities to showcase your properties, engage with potential buyers, and build a strong online presence. Maintain active profiles on platforms like Facebook, Instagram, Twitter, and LinkedIn. Regularly share visually appealing property photos, informative content, market updates, and engaging videos. Engage with your followers by responding to comments, answering inquiries, and initiating conversations to build a community around your brand.
17.

Maintain an Email Newsletter
An email newsletter is a valuable tool for staying connected with potential buyers and nurturing leads. Send regular newsletters with curated content, featured properties, market insights, and useful tips. Personalize the newsletters based on subscribers' preferences and demographics. Incorporate visually appealing images and compelling headlines to increase engagement and click-through rates. An email newsletter helps you stay top-of-mind with potential buyers and encourages them to reach out when they're ready to make a purchase.
18.

Create a Standout Business Card
A well-designed and memorable business card can leave a lasting impression on potential buyers. Include essential contact information, your logo, and a visually appealing design that reflects your brand. Consider using high-quality materials or unique finishes to make your business card stand out from the rest. A standout business card increases the chances of potential buyers remembering you when they're in need of real estate services.
19.

Film Video Walkthroughs
In addition to property photos, consider filming video walkthroughs of your listings. Video walkthroughs provide potential buyers with a virtual tour of the property, allowing them to visualize the layout, flow, and features in more detail. Provide informative commentary during the walkthroughs, highlighting key selling points and addressing common buyer questions. Video walkthroughs can be shared on your website, social media platforms, and listing portals to attract and engage potential buyers.
20.

Invest in Branded Merchandise
Branded merchandise can serve as a subtle yet effective marketing tool. Invest in branded swag such as pens, notepads, magnets, or keychains with your logo and contact information. Distribute these items at open houses, events, or local community gatherings. Branded swag helps keep your brand top-of-mind and may lead to referrals or inquiries from individuals who come across your branded merchandise.
Incorporating these 20 real estate marketing ideas into your strategy can help you attract qualified buyers and stand out in a competitive market. Remember to track your results, analyze what works best for your target audience, and adapt your approach accordingly. With a comprehensive marketing plan in place, you'll increase your chances of connecting with the right buyers and achieving your real estate goals.
Conclusion
Effective real estate marketing is essential for attracting qualified buyers. By implementing a combination of digital and traditional marketing strategies, leveraging technology, and building strong relationships, you can elevate your real estate marketing efforts and stand out in a competitive market. Stay proactive, adapt to changing trends, and consistently provide value to potential buyers. With the right approach, you'll enhance your visibility, generate more leads, and ultimately achieve success in the real estate industry.
If you're looking to implement these strategies for your own business or have any questions about digital marketing, particularly with local SEO, don't hesitate to contact us.
Our team of experts can provide personalized guidance and support to help your business thrive in the competitive world of digital marketing.
Comments are closed