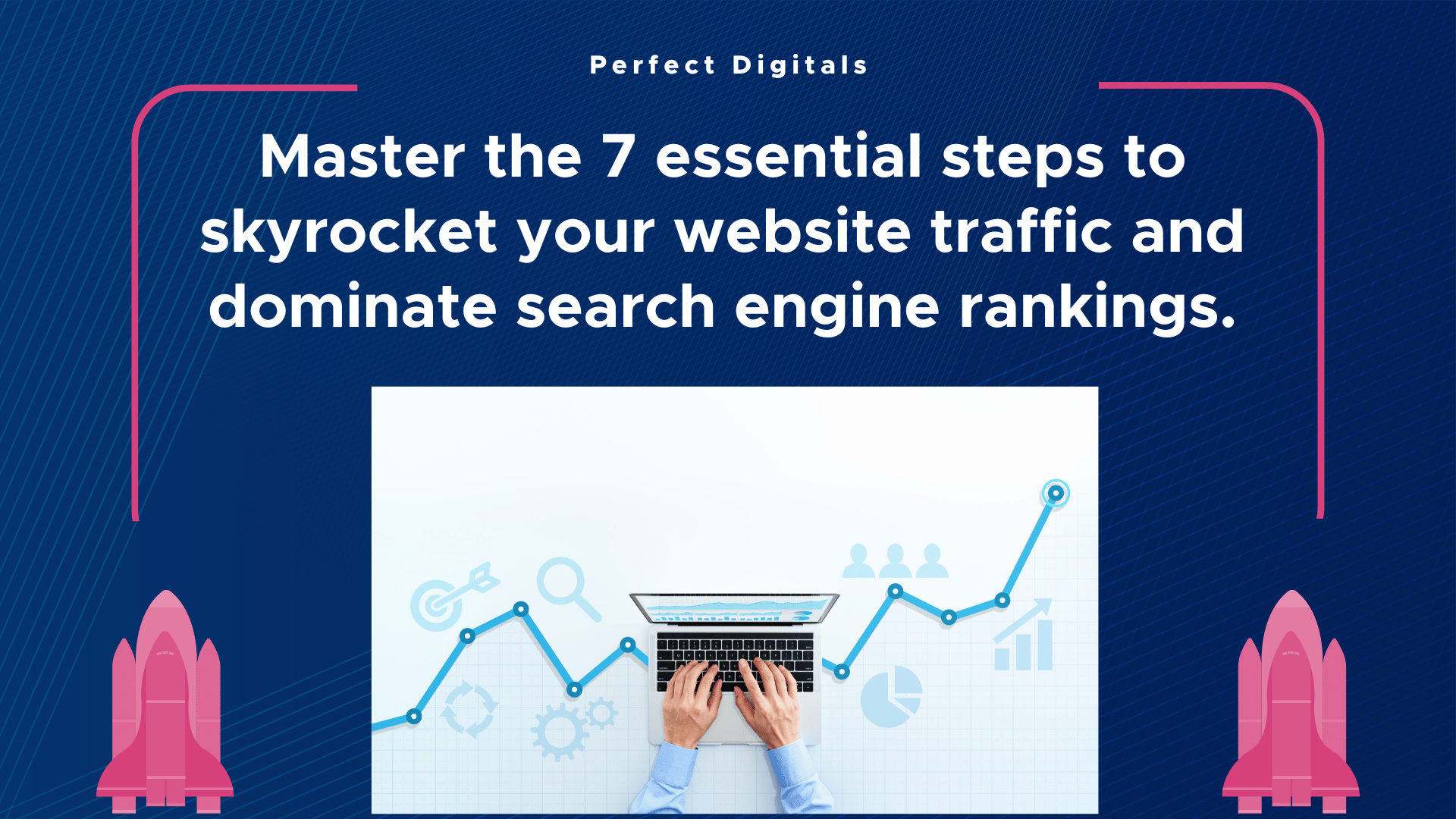 In today's digital age, having a strong online presence is crucial for businesses to thrive. With millions of websites competing for attention, driving traffic to your website and boosting your rankings on search engines has become a top priority.
In this article, we will discuss seven essential steps that can help you increase website traffic and improve your search engine rankings. By implementing these strategies, you can establish a solid foundation for success in the online world.
Importance of SEO
Search Engine Optimization (SEO) refers to the process of improving a website's visibility and ranking on search engine results pages (SERPs). It involves various techniques and strategies to attract organic (non-paid) traffic to a website.
Effective SEO practices are essential for businesses aiming to drive targeted traffic to their websites. By optimizing your website and content, you can increase your chances of appearing in relevant search results, driving more qualified visitors to your site.
Keyword Research and Optimization
Conducting Keyword Research
Keyword research is a crucial step in any SEO strategy. It involves identifying the most relevant keywords and phrases that your target audience is using to search for products or services similar to yours. Tools like Google Keyword Planner and SEMrush can help you discover valuable keywords.
On-Page Optimization
Once you have identified your target keywords, it's essential to optimize your website's pages accordingly. This includes incorporating keywords into page titles, meta descriptions, headings, and throughout the content in a natural and meaningful way.
High-Quality Content Creation
Creating Engaging and Relevant Content
Content is king when it comes to driving traffic and boosting rankings. By creating high-quality, informative, and engaging content, you can attract more visitors to your website. Focus on addressing your audience's pain points and providing valuable solutions through your content.
Incorporating Keywords Naturally
While creating content, it's important to incorporate your target keywords naturally. Avoid keyword stuffing, as it can negatively impact your rankings. Instead, aim for a seamless integration of keywords within your content to make it both search engine-friendly and reader-friendly.
Link Building
Building High-Quality Backlinks
Link building is the process of acquiring links from other reputable websites back to your own. These backlinks act as votes of confidence for search engines, signaling that your website is trustworthy and authoritative. Focus on building high-quality and relevant backlinks from authoritative sources within your industry.
Guest Blogging and Outreach
Guest blogging is an effective way to gain exposure and build backlinks. Look for relevant websites that accept guest posts and contribute valuable content to their platforms. Additionally, reach out to industry influencers and bloggers to establish relationships and explore opportunities for collaboration.
Optimizing Website Speed and Performance
Importance of Website Speed
Website speed plays a crucial role in user experience and SEO. A slow-loading website can lead to higher bounce rates and lower search engine rankings. Optimize your website's speed by minimizing file sizes, leveraging browser caching, and using content delivery networks (CDNs).
Optimizing Page Load Time
Reduce your website's load time by optimizing images, minifying code, and enabling compression. Compressing files and optimizing code can significantly improve your website's performance and ensure a seamless user experience.
Mobile Optimization
Responsive Design
With the increasing use of mobile devices, having a responsive website design is essential. Responsive design ensures that your website adapts to different screen sizes and provides a consistent user experience across all devices. This factor is crucial for both user satisfaction and search engine rankings.
Mobile-Friendly User Experience
In addition to responsive design, focus on delivering a mobile-friendly user experience. Optimize your website for touch navigation, ensure fast-loading pages on mobile devices, and use legible fonts and properly sized buttons. These optimizations enhance user engagement and boost your website's mobile visibility.
Analyzing and Monitoring Results
Utilizing Analytics Tools
To measure the effectiveness of your SEO efforts, utilize analytics tools such as Google Analytics. These tools provide valuable insights into website traffic, user behavior, and keyword performance. Analyze the data regularly to identify areas for improvement and make data-driven decisions.
Making Data-Driven Decisions
Based on the insights gathered from analytics tools, make data-driven decisions to optimize your SEO strategy further. Adjust your keyword targeting, content creation, and link-building efforts based on the performance metrics observed. Continuously monitor your progress and adapt your strategy as needed.
Conclusion
Driving traffic and boosting rankings require a well-rounded SEO approach. By following the seven essential steps outlined in this article, you can improve your website's visibility, attract targeted visitors, and establish a strong online presence. Remember to prioritize high-quality content, effective keyword optimization, and authoritative link building. Continuously monitor and analyze your results to refine your strategy and stay ahead of the competition.
If you're looking to implement these strategies for your own business or have any questions about digital marketing, particularly with local SEO, don't hesitate to contact us.
Our team of experts can provide personalized guidance and support to help your business thrive in the competitive world of digital marketing.
Comments are closed